Sins of Intent, a Cletus Efferding Novel
Guilt can eat at you until there's nothing left!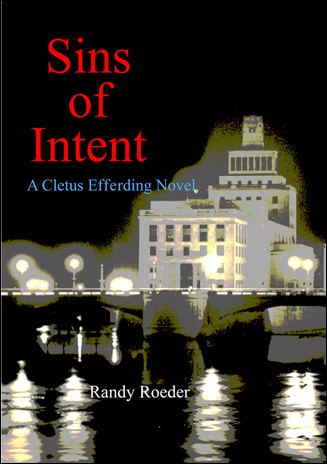 Cedar Rapids, Iowa, the long, hot summer of 1968 ...
Beneath the city's air of middle class respectability, problems abound. Corruption plagues the police department, the younger set has discovered drugs, and black and white don't like each other very much.
Cletus Efferding, a haberdasher and ballroom dancer, has just put his life back together when all hell breaks loose. A woman's body is found in an abandoned car, and Clete becomes prime suspect in a murder case.
Cletus wants the matter settled, but when the police department mysteriously drops the investigation, he can't let it go and vows to crack the case. With no experience and nothing to go on, Clete finds himself in over his head when local toughs discover his inquiry and attempt to silence him.
Now, entangled with criminals embroiled in prostitution, drug trafficking, and murder, Cletus learns the threat extends to his friends. Determined to protect them, he steps outside the law and is nearly undone when the tab for his sins comes in at a price he's unwilling to pay.
With his life in danger and the prospect of defeat threatening to destroy his very soul, Cletus Efferding must answer the question, "How far can a good man go?"
Kind words for Sins of Intent
Sins of Intent is a worthy debut, and I will definitely be climbing back into Roeder's Time Machine for Cletus's next adventure. — Dennis Green, Author of The Traveler Chronicles.
Availability
Sins of Intent is available at amazon.com in paperbound or e-book format. The first of several planned Cletus Efferding books, it is published by Dusty Typewriter Press, an imprint of its parent entity, Broken Typewriter Press.
Contact the author:
To contact the author, remove the "NoSpamPlease." from the email address: [email protected]